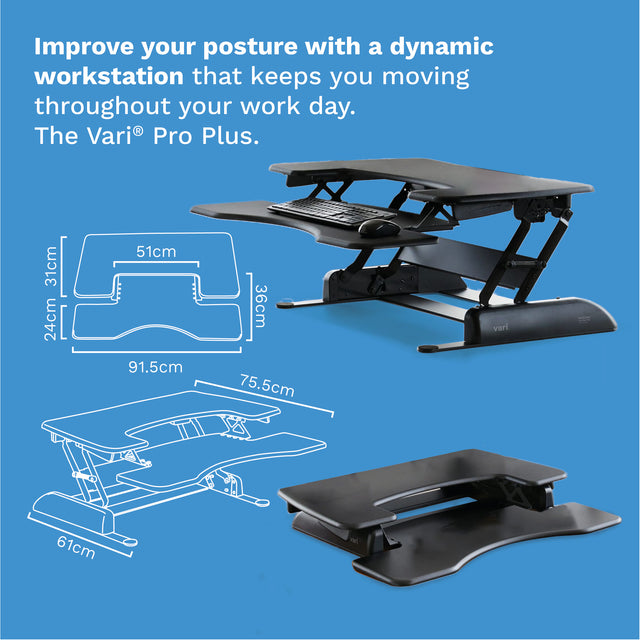 VariDesk Pro Plus 36 Standing Desk Converter
The top selling Ergotherapy desk converter.
The VariDesk® Pro Plus 36 is a two-tiered standing desk that's easily raised and lowered with an ergonomic dual handle and spring-assisted lift system. It provides plenty of room for a dual-monitor setup.
Two-tier design with separate keyboard and mouse deck
Posture curve and rowing lift 
36" (91.44 cm) wide
30 Day Comfort Guarantee
If your Vari® desk doesn't meet your requirements, we'll refund you within 30 days.
Free shipping
We'll deliver your desk converter within 5 working days (Western Cape within 10 working days).
5-year warranty
Your Vari® desk is quality-guaranteed against any defects for 5 years.


Two-tier design provides room for monitors, keyboard and mouse.
Raise and lower your desktop with ease with dual-handle design and spring-assisted lift.
Choose from 11 different heights
Weight base provides stability at any height
Fully assembled – ready for use, straight out the box
Posture curve and rowing lift for minimal impact on back
Transform the way you work forever.
The Vari® Pro Plus 36 allows you easily and conveniently change your working height throughout the day. This makes it an excellent choice for people suffering neck or back pain and posture-related issues.  
Your Features:
Dual-monitor compatible
Designed to remove pinch point risks during operation 
Sturdy and stable when fully extended
Desk height: 11.5 – 44.5 cm
Supports up to 15.8 kg
Free shipping, within 5 working days (Western Cape within 10 working days)