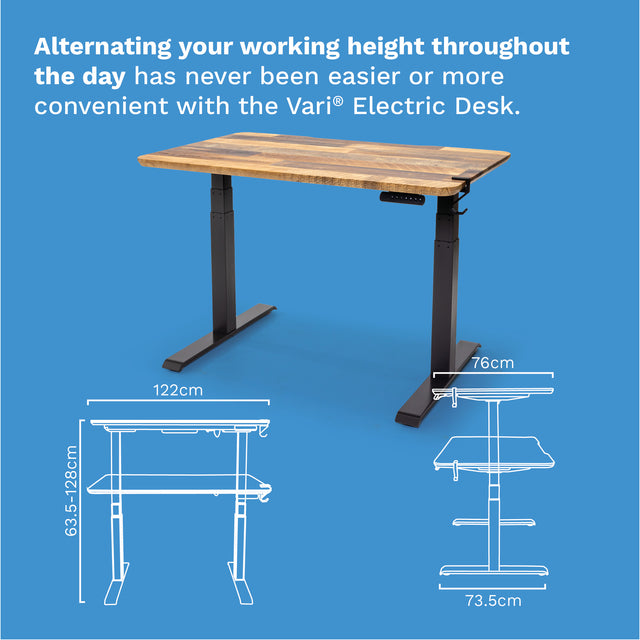 Electric Standing Desk 48x30
Take a stand against back pain.
Alternate between sitting and standing at the with the Vari® motorised electric standing desk. Cycle between 4 programmable height setting at the touch of a button. Available in 4 attractive finishes.
Assembles in minutes with included tools
Quality components, robust construction
Continuous height adjustment from 25" (63.5 cm) to 50.5" (128 cm)
30 Day Comfort Guarantee
If the Vari® electric desk doesn't meet your expectations, we'll give you your money back.
Free shipping
We'll deliver your desk within 5 working days (Western Cape within 10 working days).
5-year warranty
Your Vari® desk is quality-guaranteed against any defects for 5 years.


Stores 4 different programmableheight settings
Durable, laminate finish in black, white, dark or reclaimed wood.
Quality T-style legs for complete stability at any height
Transform the way you work forever.
Alternating between sitting and standing helps you reduce back pain.
The Vari® electric desk offers instant height adjustment at the touch of a button – saving you the hassle of manually raising and lowering your desk. 
Your Features:
Straight up lift
Chamfered desk edge
Cable tray compatible
Desk height: 63.5 – 128 cm
Weight capacity: 90 kg
All tools included
Free shipping, within 5 working days (Western Cape within 10 working days)
Instructional Video
How to set up your desk