Designing an Office Space
Thinking about a new design for your office space? Here's how to create a space that your staff will love and will help your business tick.

Designing an office space isn't a vanity project. Instead, how you design your office space can have a huge impact on company culture, workplace productivity and even health and safety. For your clients, too, it says a lot about your approach to business and the company's overall professionalism and ethos, so investing in an efficient, happy workspace is just good business sense, whichever way you look at it.

But before you embark on a redesign, there's a few points you need to bear in mind to ensure your new office design is a success, both functionally and aesthetically.
Seize the opportunity to transform your work environment with this office space planning guide below.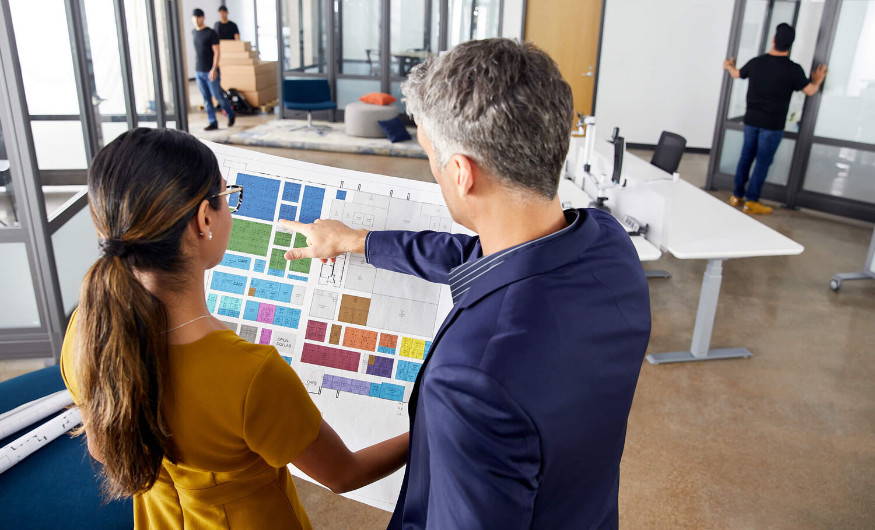 1. Plan your process flow
Before you design your space, you need to understand workplace dynamics – how your team members move, the nature of their activities and how they utilise space; where traffic develops; as well as potential obstacles that could get in their way.
And you need to plan for team culture and nature of work as well. Businesses where the nature of the workflow requires collaboration amongst their staff will benefit more from open-plan office spaces. However, employees may also need periods privacy and silence. Such roles, teams or projects requiring more solo work can benefit from cubicles or even sound-proof booths. And remember: each employee will have their own individual needs that will allow them to work at their best.
That's why most companies now prioritise offering both types of space, so offering different spaces and a variety of seating and desk options to your employees and giving them the freedom to work flexibly between them as they need.
2. Ergonomic workstations
Workplace ergonomics have a direct impact on your business productivity, product quality and employee health, so present a real investment in your business' performance.
Seeing as employees will spend roughly a third of their day at their desks, you should start by ensuring their workstations can adjusted to each employee's needs to support efficient motion and good posture.
An ergonomic office chair that provides good lower back support and full adjustability of the armrests, seat and backrest is one of the best gifts you can give your staff, as it will enable them to work pain-free and more productively each day.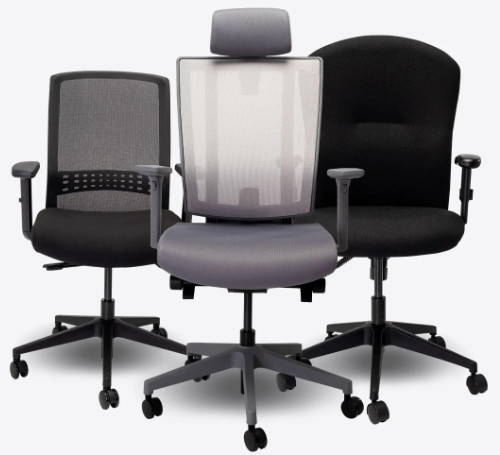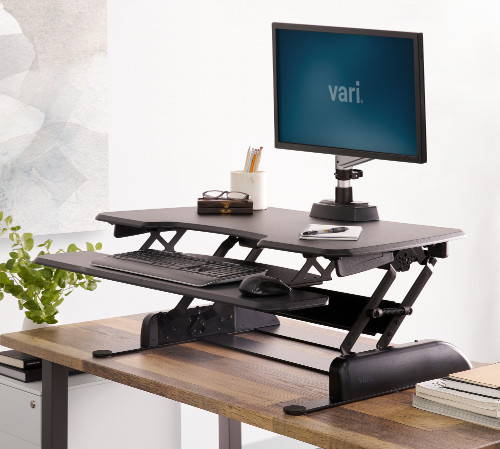 Their desks should be equally ergonomic: the monitor should be approximately 50 to 70 cm away and slightly below a horizontal line of sight. There should also be minimal bend in the wrist, as improper wrist position can result in numerous problems including carpal tunnel syndrome, so it's important that each team member's desk can be individually adjusted.
Speaking of height adjustable, have you considered sit/stand desks for your office? Standing while you work is becoming the new normal, as a growing body of research shows how alternating between sitting and standing can not only improve productivity and posture, but also lower the risk of heart disease and diabetes.
This is what an ergonomic workstation should look like.

3. Think about your future needs
Plan for the future by thinking how scaling your business may require adjustments in your office layout. That's why today, it's key to choose a workplace design that can grow and flex with your evolving business requirements. Ideally you should be able to easily add new workstations or convert spaces without having to create entirely new workspace designs.
The Vari® range of ergonomic products for instance is simple to assemble, disassemble, and reconfigure without needing special tools or additional labour. This means that you can easily change your space to reflect the needs of your employees and your business over time.
And also think about your business' technology requirements so that you can provide easy, fast and convenient access to electrical, network and auxiliary connections and reduce your wire clutter and improve cable management, now and in the future.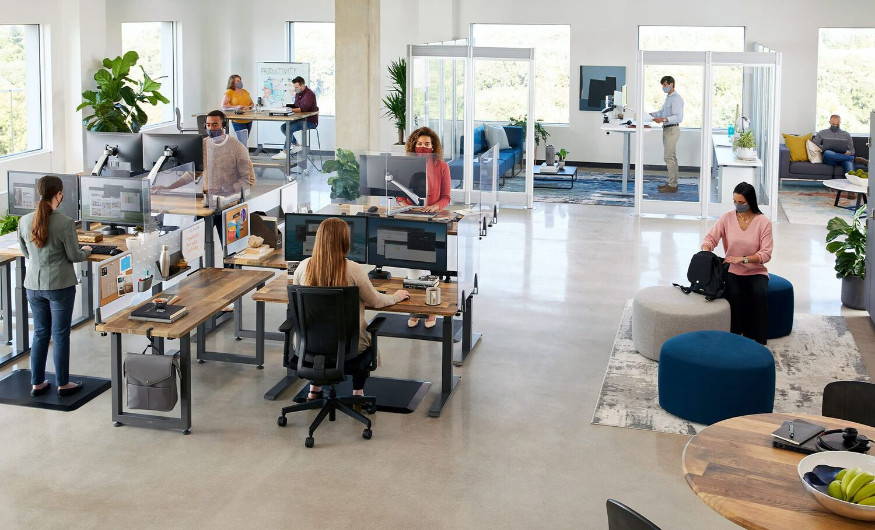 Poor lighting can lead to bad posture, eye strain and headaches, so ensuring you provide optimum lighting for your employees will boost your business' day-to-day productivity.
When it comes to lighting, start by considering how you can make maximum use of the natural light available in the space. This this just more cost-effective; studies show that increasing natural light is linked to improved energy, mood and wellbeing amongst office-working employees.
In open plan workspaces, which require high illumination, this natural light will need to be complemented by recessed ceiling lights, with additional spotlights or downlights to illuminate any remaining dark spots. In such production rooms, choose a cooler light tone as this aids concentration, while in communal spaces, a mix of warmer, dimmable lights and accent lights will help create a more relaxing atmosphere for your employees.
5. Bring your brand alive
How you organise your space speaks volumes about your business and its identity. Your choice of colours, shapes, textures and tones should combine to create an atmosphere and mood that mirrors how you want your brand to be perceived – both amongst your employees and to your customers.
The best place to start when considering how to bring your brand alive in your office space is to think about its core values. Ask yourself, and your employees, what are the top words and ideas that come to mind when thinking about the brand? These should provide some sort of conceptual foundation that will help inspire the direction of your décor and overall palette. You can also use your brand colours to bring specific areas in the office alive through feature and accent walls.
You'll want to pay extra attention to the most visible touchpoints of your office, such as the reception area, high-traffic areas and communal spaces. And these aren't just visual touchpoints; a high-quality, ultra-comfortable reception chair can leave a lasting impression on your visitors and create a feeling of professionalism when they visit your premises.
From motion to lighting, workplace ergonomics should be at the centre of every office design or revamp. Ergonomic environments create less stress on your employees, and are safer to use. This means a happier and healthier workforce as well as reduced absenteeism and greater productivity. So wherever you are in your design process, and whether you're starting from a clean slate or looking at upgrading particular facets of your office, always consider that the investments in ergonomics you make now will produce long-term value for your business performance.
Are you in the process of designing a new office space? Our Ergotherapy ergonomist can assist with both understanding workplace dynamics and ensuring that the correct lighting levels are present for each space. Contact us today to find out more.