Sweet – you've got your gaming chair, now it's time to complete the setup with an equally awesome desk. Here are our picks for best gaming desks in 2022.
The best gaming desk should offer you more than just a steady surface for your computer peripherals. And no, we're not talking about the flashy stuff like integrated LED lighting and cup holders.

It should make you play better.
Wait, what? How?
Well, by optimising the ergonomic experience, with a desk that introduces greater mobility and adjustability to the playing environment, many gamers report better concentration and extended focus. That helps them to take their performance to the next level.
Throw in the growing body of research that suggests that fluid and dynamic working can improve your posture and overall health, and that long periods of sedentary activity can have seriously negative consequences, a height-adjustable or sit/stand desk seems a long overdue addition to the modern gaming rig.
Yup; alternating between sitting and standing is one of the best things you can do if you spend long hours gaming. It might seem a little alien initially – not to 80s arcade gamers of course 😉 – but the truth is you'll probably find it's a pretty natural stance and takes very little getting used to.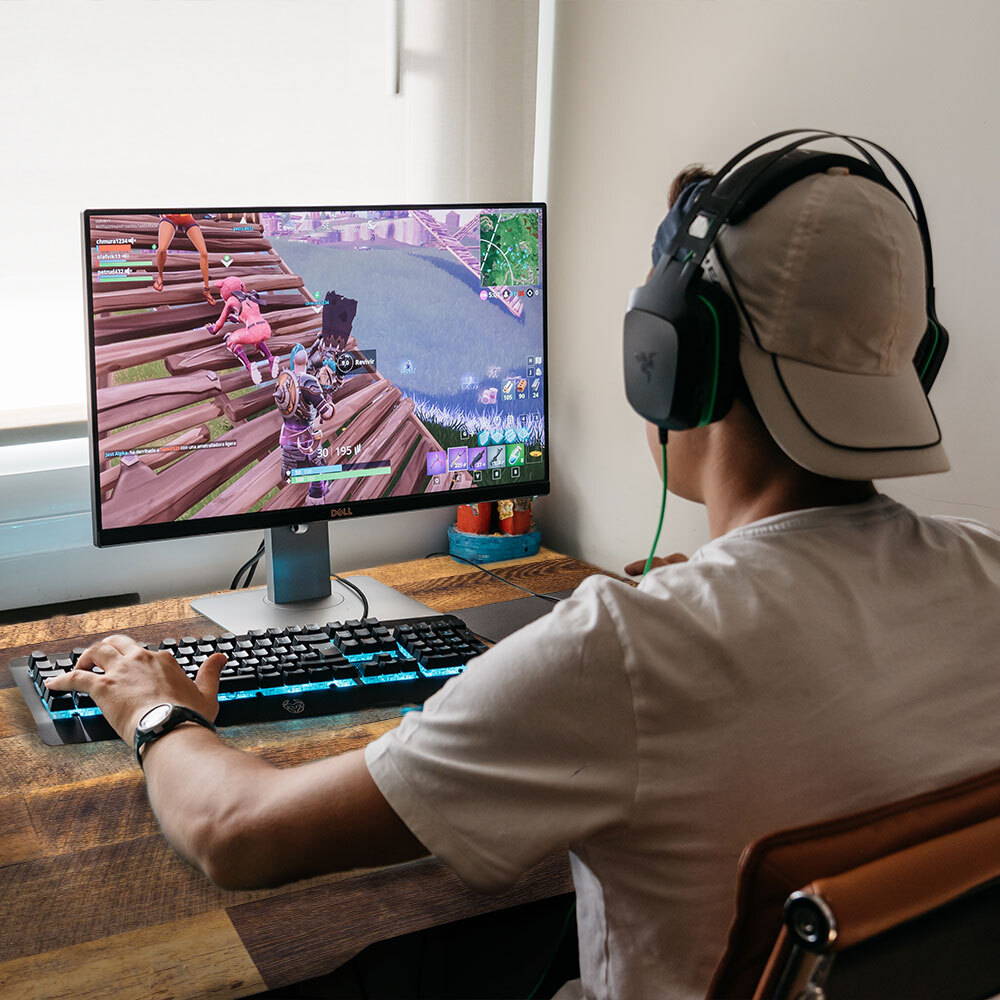 What else should I look out for?
You also want a desk that provides a wide, spacious area with a big enough working surface and monitor area to accommodate your rig without becoming cluttered or impeding your range of motion in any way.

And you should prioritise the quality of the desk's construction, as a desk that rocks or shudders when you're using it is literally going to drive you nuts. A good gaming desk should be completely stable and weighted to give it a firm feel at whatever height it's set to, and should be backed by a warranty of at least a couple of years (the best desk manufacturers offer up to 5-year guarantees on their products).
So which desks meet these requirements the best in our book? Here's our choice.
Our best desks to help you lift your game in 2022:
The Vari® Electric Standing Desk is a seriously impressive, high-quality piece of furniture that allows you to switch from sitting to standing at the simple touch of a button. It's easy and fast to assemble, and allows you to store four different presets that you can programme to your preferred heights, from 63.5 to 128 cm. With maximum desk widths of 152 cm and 90 kg weight limit, the Vari® standing desk can easily accommodate your entire gaming rig and multiple or ultra-wide monitors while providing a clutter-free, flexible ergonomic surface to help you maintain better focus and better posture while you game. It's available in five attractive finishes to suit your style and comes with a 5-year guarantee.
Easily swap between 4 programmable height settings

Desk height: 63.5 – 128 cm

Quality T-style legs for maximum stability

Durable laminate with chamfered edges
Black

White
Darkwood
Reclaimed Wood
Butcher's Block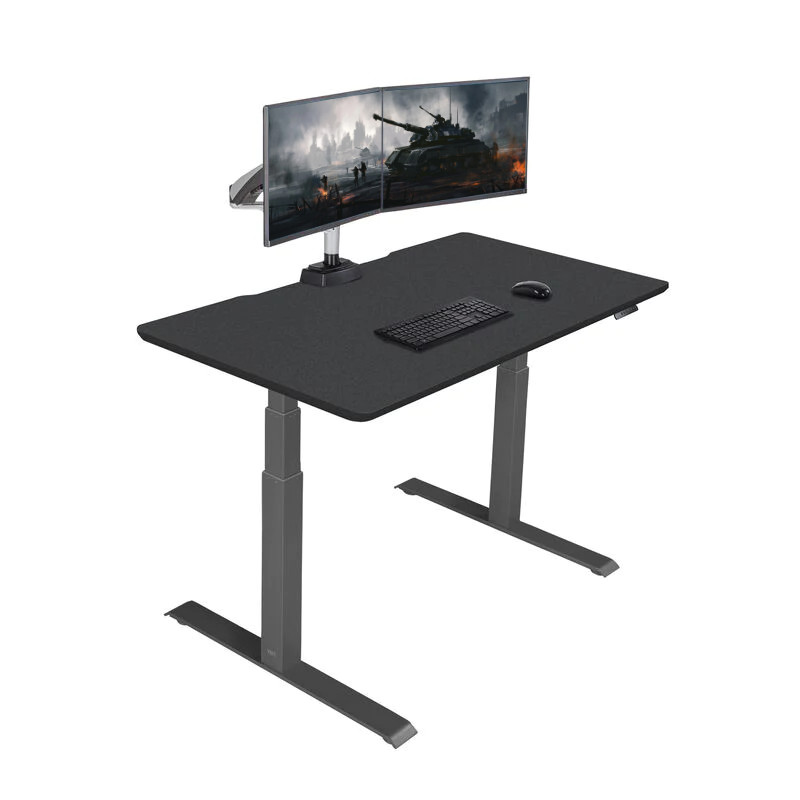 Voted by PC Gamer as the best convertible standing desk for gaming, the VariDesk Pro Plus is the ideal choice if you want to convert your existing desk into a more ergonomic gaming station at which you can switch between sitting and standing with ease. With desk widths up to 48" (122 cm), this standing desk converter offers plenty of space for your gaming keyboard and mouse as well as dual or ultra-wide monitor setups with a unique two-tier design. It features the high-quality, sturdy design you'd expect from any Vari® product, which is backed by a 5-year warranty, and comes ready to use out-the-box, so you can start enjoying your new ergonomic gaming station immediately.
Two-tier design provides room for monitors, keyboard and mouse

Dual-handle design and spring-assisted lift for easy adjustment

Desk height: 11.5 – 44.5 cm

Weight base provides stability at any height

Ready for use, straight out the box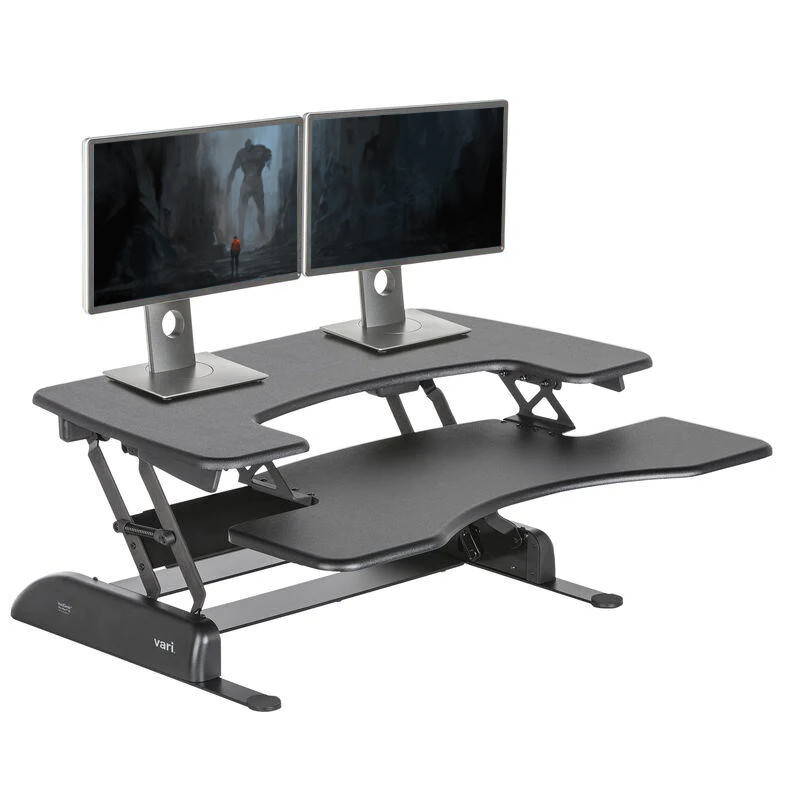 Choosing a standing desk as your gaming station will help improve both your health and your performance, so if you're looking for the best gaming desk in 2022, you can't go wrong with the VariDesk Pro Plus or the Electric Standing Desk. Totally ergonomic and height-adjustable, and with a sturdy, robust design these desks will meet your requirements and help you game on pain-free for years to come.
Now you can go wild with that LED lighting!
Are gaming desks worth it?
A desk designed for exceptional usability and ergonomic performance is definitely worth the investment if you take your gaming and your health seriously. A good gaming desk should be wide, spacious and height-adjustable with a robust construction that will last you years.
Is a standing desk good for gaming?
A standing desk is an excellent choice for your gaming rig. A desk that allows you to sit, stand and vary your position while maintaining good posture will help reduce back and neck tension while maxing your in-game concentration.
Be the first to know about new collections and exclusive offers.
Subscribe to our newsletter
Everything you need to know when buying an ergonomic office chair